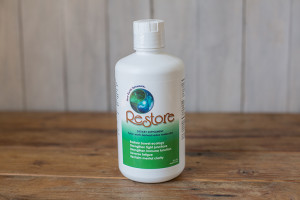 Reposted from Relay Foods blog:
Does your gut ever hurt? Have you ever eaten something that didn't sit well with your stomach? For some, this occurs more frequently than they'd like to admit. If you don't have gut issues, you likely know someone who does.
You see, the gut (stomach, small intestines and large intestines) is central to your health. Spanning 25 feet from end to end, your gut doesn't just help digest your food; it is home to 60% of your immune system organs. So, similar to the old adage about Mama being happy — if your gut ain't happy, ain't nobody happy.
Having an unhappy gut seems to be a common problem. An article addressing irritable bowel syndrome (IBS) came out this week in the Journal of the American Medical Association (JAMA) and sighted that 10-15% of school-aged children have recurrent abdominal pain, [1] and that IBS rates in the general population are increasing at a rate of 1% each year. [2] Our risk for IBS increases as we age.
Why, you ask? Environmental toxins like glyphosate (RoundUp in GMOs) and gluten from processed wheat are likely culprits to this epidemic as both increase gut wall permeability (AKA leaky gut) and are believed to foster a broad range of conditions such as gluten intolerance, autism, auto immune disease and IBS.
Relay Foods is now carrying RESTORE, an exciting new supplement created by the doctors and scientists at New Earth Dynamics in Central Virginia specifically to help naturally combat the negative effects of environmental toxins. This is the first of a line of supplements from New Earth Dynamics curated by Relay's new medical nutrition consultant, Zachary Bush, MD. The other supplements will hit our "shelves" in the coming months.
RESTORE is the first balanced carbon redox molecule supplement. Derived from fossilized soil deposits in the deserts of the Western United States, these carbon redox molecules are the communication network of gut protection and restoration.
RESTORE made its debut in clinical medical practice two years ago at Revolution Health Center in Scottsville, Virginia. Since then, it has helped thousands of people realize a level of gut health that many had never experienced in their adult life.
"Inflammation is the root cause of our disease epidemic, and poor gut health is the root cause of inflammation," says Bush. "RESTORE is a paradigm shift in dietary supplements because it has the ability to get to this root cause, and quickly repair the gut wall and the bacteria that supports it."
The Relay Foods family is excited to bring this breakthrough dietary supplement to our customers and to welcome Dr Bush to the family as our medical nutrition consultant. Dr Bush will be helping us introduce our supplement portfolio, and will provide scientific perspective on the nutrition and healing potential of the contents in your Relay shopping cart. Welcome aboard, Dr. Bush!
Citations
[1] Fernanda Cristofori, Claudia Fontana, Annamaria Magistà, Teresa Capriati, Flavia Indrio, Stefania Castellaneta, Luciano Cavallo, Ruggiero Francavilla. Increased Prevalence of Celiac Disease Among Pediatric Patients With Irritable Bowel Syndrome. JAMA Pediatrics, 2014; DOI: 10.1001/jamapediatrics.2013.4984
[2] http://emedicine.medscape.com/article/180389-overview